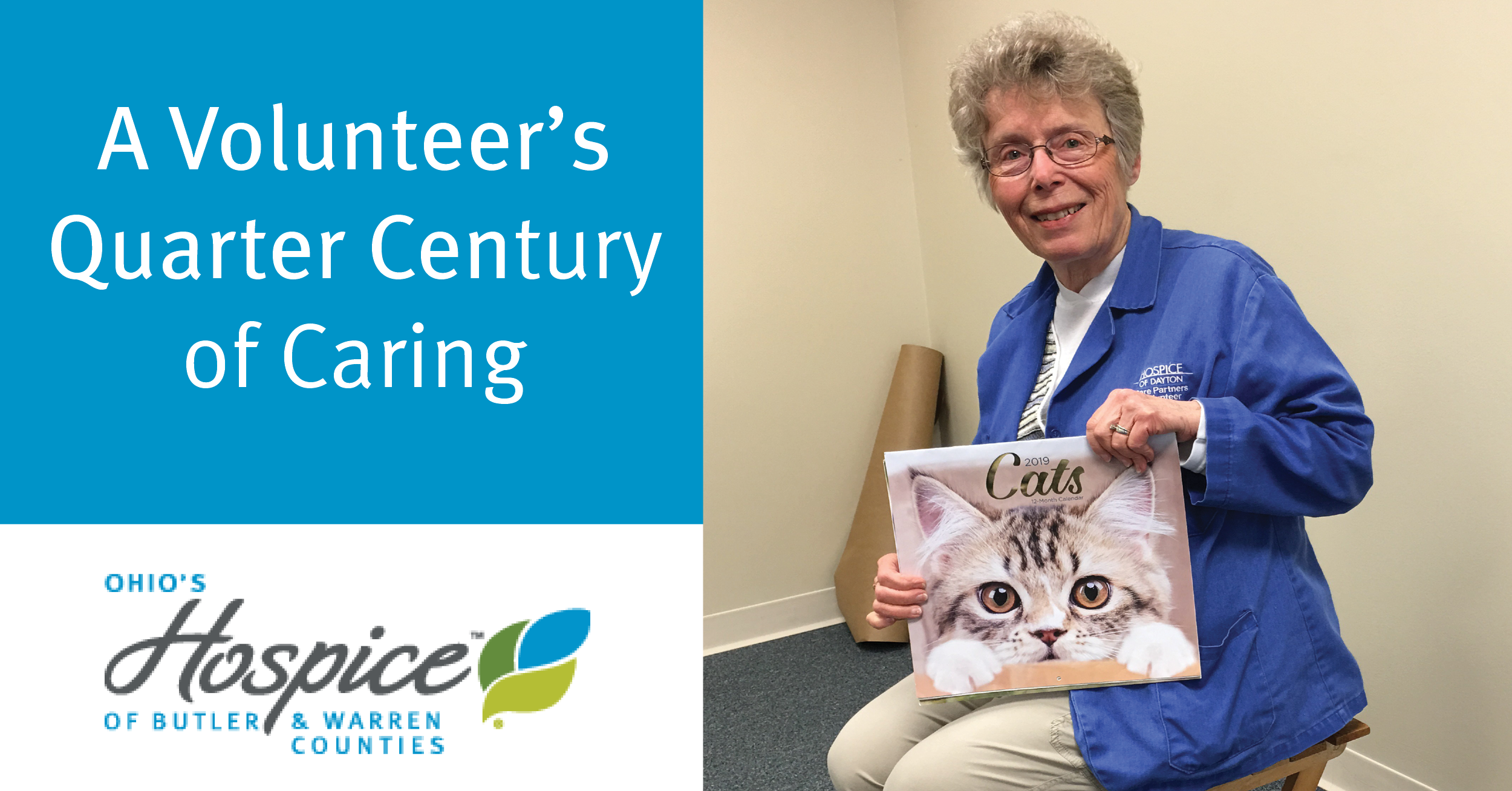 A Volunteer's Quarter Century of Caring
When Pat Wourms saw a notice in the bulletin at St. Rita Catholic Church inviting volunteers to work with hospice patients, she thought it was something she could do. A graduate of the Good Samaritan Hospital nursing program, she put her experience as a nurse to work as a volunteer helping to bathe and care for patients. Twenty-six years later, Pat is still volunteering with Ohio's Hospice of Butler & Warren Counties as a friendly visitor to patients in nursing homes.
"I have always been called to care for people," Pat said. "I attribute it to my grandmother, who was the kindest person I ever knew. She gave me unconditional love."
In New Bremen, where Pat and her grandmother, Ida Luelleman, lived, Ida was known to offer meals to itinerate men who had nothing to eat and no place to live. "She was generous and loving with everyone,"
Pat recalled.
Pat is creative in finding ways to understand and connect with her patients, many of whom have dementia and difficulty communicating. She carries a bag full of calendars featuring pictures of animals, cars and landscapes that she uses to spark memories and start conversations. She uses a folding stool made by her father for fishing to keep her at eye-level with her patients. She uses flash cards, magazines, fabric swatches, stuffed animals and playing cards to engage them.
She is curious and finds out what is meaningful to them and tailors her visits to those discoveries. "One patient was so crippled. She could hardly move. She knew Psalm 23 and repeated it all day," Pat said. "I have never seen such an old, well-worn Bible as hers when she showed it to me. So, I found a book about Psalm 23 by Norman Vincent Peale and read it to her on my visits. She would look at me with such loving eyes."
Pat learned that one of her patients had great affection for puppies, so she brought her a Beanie Baby stuffed animal. The patient named it Fetch and kept it on her shoulder constantly. When she died, Pat visited the funeral home and found Fetch in his usual place, on the women's shoulder in the casket.
One patient who was in her 90s taught Pat a game of gin rummy and they played together regularly until the patient passed away at 102. Pat will fix the hair of elderly women in her care, listen to stories and ask if it's OK to touch or hug those she cares for.
"God gave me the gift of truly caring about people," Pat said. "When I leave after a visit, I feel like kicking up my heels. If I am able to give someone one more smile in life, I am satisfied it's one more than they might have had."