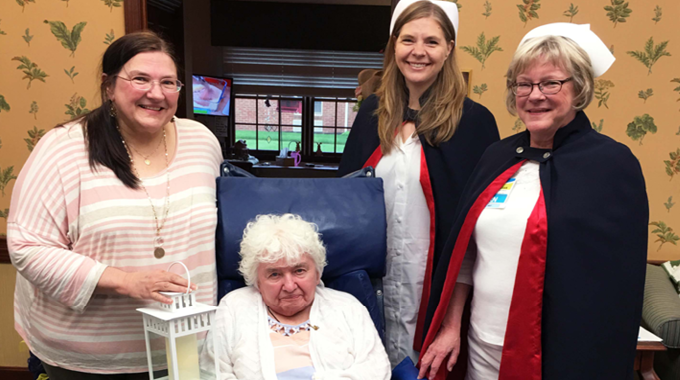 Nursing Honor Guard Recognizes Patient for Her Commitment to Nursing
Mary Anne Hudek, a patient of Ohio's Hospice of Butler & Warren Counties, spent 35 years as a nurse enhancing the lives of those she served, caring for them in the emergency room, the obstetrics department and the oncology unit of Mercy Hospital in Hamilton, Ohio.
The Ohio's Hospice Nursing Honor Guard recognized her on April 26 with its Nursing Honor Guard Tribute, which honors nurses who are in hospice care with Ohio's Hospice. Dressed in traditional and historical uniforms comprised of a blue and red cape, white dress and cap, the Nursing Honor Guard recognizes nurses for their commitment to caring and providing compassion to patients. The ceremony highlights a nurse's career and individual achievements. It also includes the recitation of the Nightingale Pledge, a statement of the ethics and principles of the nursing profession.
"Nursing is giving of one's self to enhance the lives of others," said Nursing Honor Guard member Susan Boesch, RN, OCN, CHPN during the ceremony. "We want to formally acknowledge your many years of service as a nurse and to note that your accomplishments are measured in the lives you affected through dedication and perseverance."
Hudek, 82, graduated from Mercy Hospital School of Nursing in Hamilton in 1957. Upon graduation, she began working in Mercy Hospital's Emergency Room until she had her first child in 1959. She and her husband, John, who was on the police force, had six children: Judy, Jack, JoAnne, Jeanette, Jim and Julie.
In 1966, Hudek returned to Mercy Hospital to work the night shift in the obstetrics department. Her daughters, JoAnne Dole and Jeanette Flum, remembered their mother's perseverance and commitment to both her patients and their family.
"She worked the third shift to be at home with us," Flum said. "We were in bed when she left for work. When she returned from work, she stayed up to serve us breakfast and send us off to school. Sometimes she brought home doughnuts!"
In the obstetrics department, Hudek helped deliver babies and even delivered several babies when the doctor did not make it to the hospital in time for the birth. As a result, a number of baby girls were named after her. Her daughters recalled their mother telling them about the babies that were born. Hudek was thrilled to be a part of each birth.
"She would say, 'Wake up baby. Welcome to the world!'" Dole recalled. "We started saying that to our own children when they woke up in the morning."
When Mercy Hospital closed its obstetrics department in 1977, Hudek transferred to the oncology unit, where she was privileged to care for many dying patients. She was a true hospice nurse before there was inpatient care center in the area.
Hudek considered nursing a calling and a privilege to serve each patient and family. She stayed by their bedside and comforted them as they approached death. "It's OK to go," Hudek said to those patients. "Go and be with the Lord."
She retired from hospital nursing in 1987 to care for her aging family. She used her nursing skills to care for her father before he died from lung and brain cancer. She also cared for her uncle in Michigan, driving five hours to do the weekend nursing shifts for him before he died from brain cancer. And then she cared for her husband, who battled heart disease, but thanks to her, was able to die at home surrounded by family.
Hudek inspired some of her children and a niece to go into healthcare. Dole is a nurse and spent 12 years with Ohio's Hospice of Dayton. Flum is a radiology technician. Another daughter is a dentist, and a niece is in her second year of nursing school.
Nursing Honor Guard member Kristy Brock, RN, CHPN, presented Hudek with a Florence Nightingale lantern and pin. "Though your nursing tasks are complete, they are not forgotten," Brock said. "It is our honor to express our respect for you as a nurse and our gratitude for the care you have given."
Honored to be recognized, Hudek appreciated the special ceremony. "The lives I took care of were very special to me, and I feel very privileged to have been able to take care of them," she said. "Nursing is a special calling, and I was honored to receive that calling."