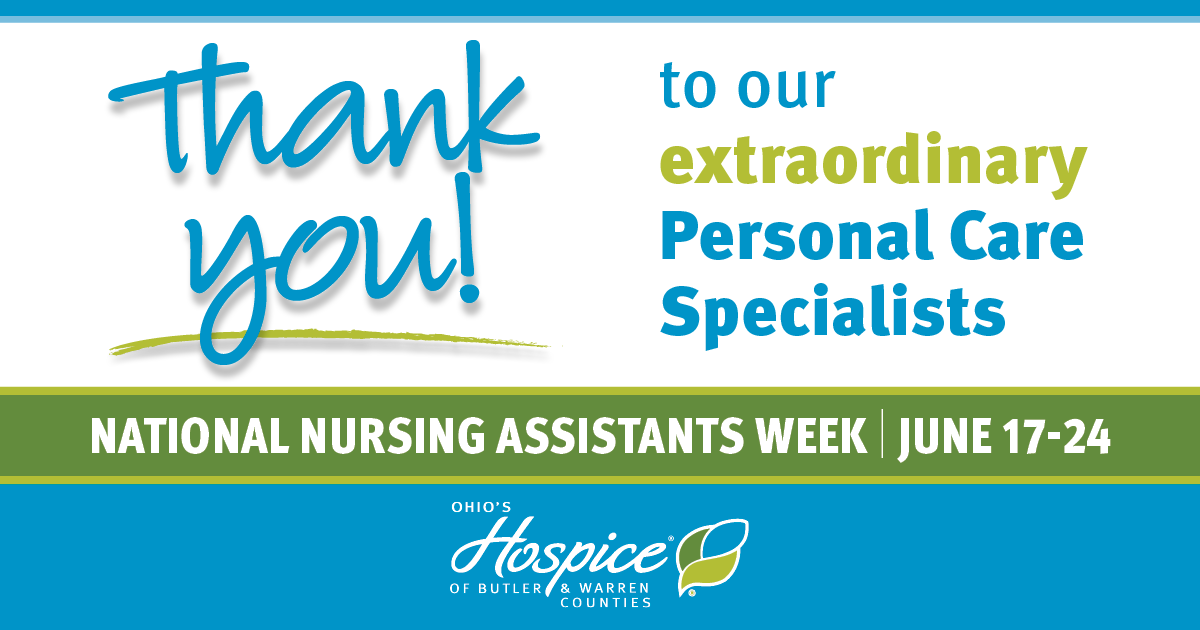 Ohio's Hospice of Butler & Warren Counties Personal Care Specialists Share Their Stories During National Nursing Assistants Week
During National Nursing Assistants Week, June 17-24, Ohio's Hospice of Butler & Warren Counties, an affiliate of Ohio's Hospice, takes a moment to recognize and thank our personal care specialists for all they do 24 hours a day, 7 days a week, 365 days a year to provide superior care to our patients and families we are privileged to serve.  
  
At Ohio's Hospice of Butler & Warren Counties, personal care specialists are state tested nursing assistants (STNAs). They provide the essential daily, hands-on care in homes, nursing homes and inpatient settings. As professionals, the personal care specialists are instrumental in promoting and safeguarding the physical, mental, emotional, social and spiritual well-being of the patients and their families.   
  
They participate as members of the interdisciplinary team and communicate any patient changes or updates to ensure proper response time and quality patient care. Ohio's Hospice also has several STNAs who serve the organization in non-clinical ways, including scheduling and pharmacy services. Others serve as buyers, Hospice House coordinators and excellence educators.  
  
Our personal care specialists go above and beyond each and every day. They work days, evenings, weekends and holidays. They provide or assist with personal care, including but not limited to bathing, dressing, oral hygiene, hair care, meal preparation, feeding, transfers and exercises.    
  
Ohio's Hospice of Butler & Warren Counties is grateful and thankful for its personal care specialists' kindness, compassion and expert care. They make a difference in the lives of patients and families with every interaction. We appreciate all they do to serve our mission. 

We invite you to get to know some of our personal care specialists.
Lyndsay Helvey has always had a passion for caring for others. She finds her role rewarding because she is able to educate and support patients and families during one of the hardest parts of their lives. Her favorite memory is arranging a lunch outing for a patient who wanted to take her and her care manager to his favorite restaurant.
Angel Shepherd said the best part of her role is "the extra layer of care we offer, especially during COVID-19." A memory that she will never forget is her and another nurse helping a young patient's husband bathe her one more time.