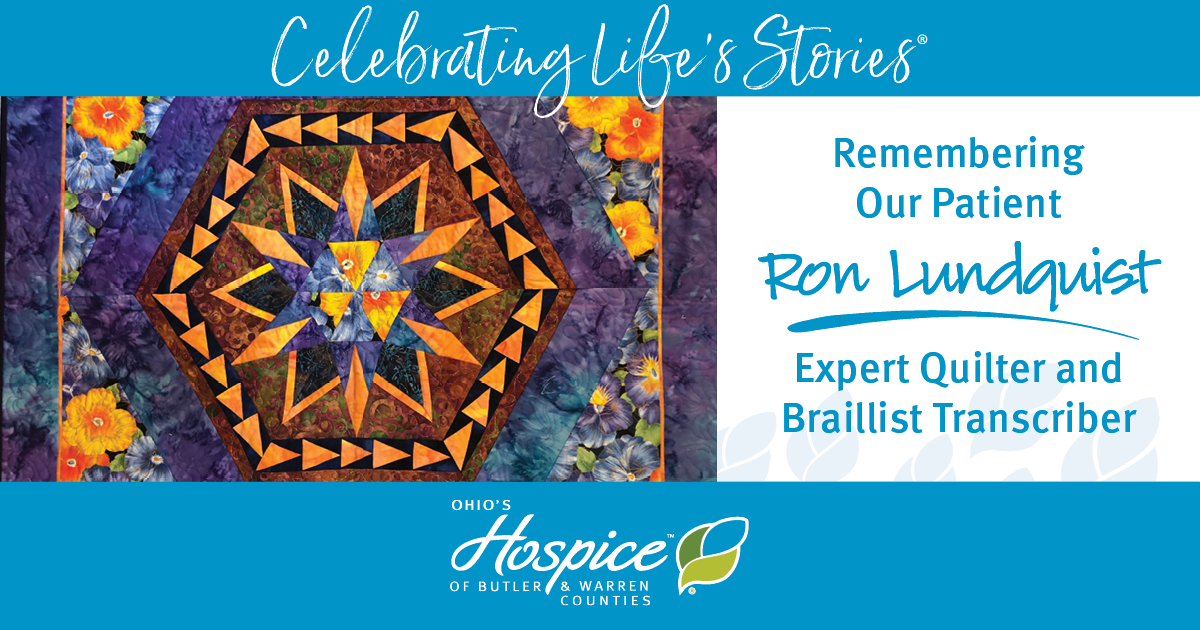 Patient Remembered for Braillist Volunteer Work and Quilting
Ron Lundquist, a former patient of Ohio's Hospice of Butler & Warren Counties, was certified by the Library of Congress in 1972 as a Braillist. He became a volunteer transcriber and continued this effort until early 2019, when the side effects of chemotherapy made him unable to type.
As a child growing up in northern Minnesota, he read an article in Reader's Digest magazine about transcribing print into Braille. "I thought it would be the coolest thing to be able to do," he said.
Stationed by the U.S. Army in rural Kansas, he started learning Braille transcription through a correspondence course from the Library of Congress. After his discharge, he attended and graduated from the University of Minnesota School of Library Science, and his first job was in the Iowa Library for the Blind and Physically Handicapped. There he completed his Braille certification, and when he left that job, he continued on as a volunteer transcriber.
Although the technology has changed over the years, manual transcription is still necessary because of the abbreviations and contractions of words and phrases that are used in Braille. In 2015, at the Iowa Department of the Blind's annual volunteer workshop, Lundquist was recognized as Volunteer of the Year. In his remarks at the ceremony, he said, "The challenge of transcribing print into Braille is a gift that has enriched my whole life, from the time I first read that article in Reader's Digest."
Shortly after coming to Dayton in 1985 to work in a library at Wright-Patterson Air Force Base, Lundquist was introduced to quilting as an art form by fellow librarian Peri Switzer. "He took to it instantly," she said. "He had such an eye for color."
He joined the Miami Valley Art Quilt Network and the Miami Valley Quilters Guild, and he regularly attended classes and workshops to learn and expand his sewing skills. He became expert at piecing intricate patterns and shapes and mastered free motion quilting, which is hand guiding the quilt under the sewing machine's needle to produce a stitched design.
He collected many pieces of fabric, and particularly liked to use batik and hand-dyed fabrics in his quilts. Throughout the years, Lundquist gifted and sold many of his quilts, and he was a regular donor to the Dayton PBS station's annual auction.
"When he became ill, Ron was given a book of information on what to expect," said Harolyn Burns, a friend of Lundquist's and a fellow Miami Valley Quilters Guild member. "He held onto a line that said to hope that you live and prepare for if you didn't."
His first decision was to speed up his plan to move from his house to an apartment in a senior complex. He donated his extensive fabric collection and his remaining completed quilts to the Miami Valley Quilters Guild. In November 2019, Lundquist died. "We all miss Ron," Burns said. "He was a really special fellow."
The guild planned a display of his work in its May 2020 quilt show, which was canceled because of the COVID-19 pandemic. His work is being kept for display in the May 2022 show.
Editor's Note: Ron Lundquist died in November 2019. We were honored and privileged to be of service to him.