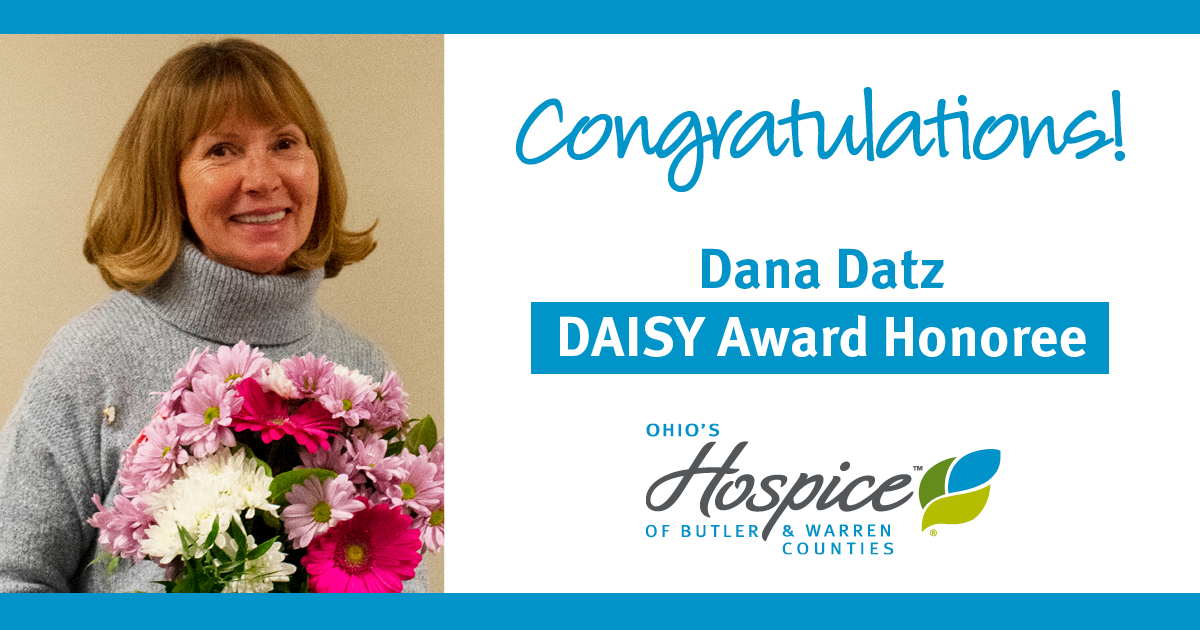 Ohio's Hospice Recognizes Dana Datz With DAISY Award®
Outstanding members of the Ohio's Hospice staff are recognized every quarter with the Bouquet of Recognition Awards for going above and beyond in advocating for and serving hospice patients and families. Dana Datz, RN Hospice House/Inpatient Care with Ohio's Hospice of Butler & Warren Counties, was recognized with the DAISY Award®, for providing outstanding compassionate care to a patient and the patient's family. 
Ohio's Hospice is proud to be a DAISY Award partner, recognizing one of its nurses with this special honor, quarterly. At Ohio's Hospice, DAISY Award honorees are nurses who consistently demonstrate excellence through their clinical expertise and extraordinary compassionate care. They are recognized as outstanding role models in the Ohio's Hospice nursing community.
A patient's son nominated Dana. He was touched by the concern Dana had for him when she met him. He had been up for 36 hours at the hospital with his father before hospice was called. "This small act meant the world to me, and I knew at that exact moment that Dad had come to the right place," the patient's son wrote in a nomination form. "I really wish I could quantify how much that meant to me. Through the remainder of the day, small acts of service seemed to be the priority — combing his hair each time he was turned, actively ensuring he was clean at all times, ensuring Dad had each activity explained to him as if he were awake and able to make decisions, and briefly placing her hand on his chest after tucking his sheets in as one last comforting gesture." 
Congratulations to Dana on being recognized with the DAISY Award and thanks to her for her support of the Ohio's Hospice mission.