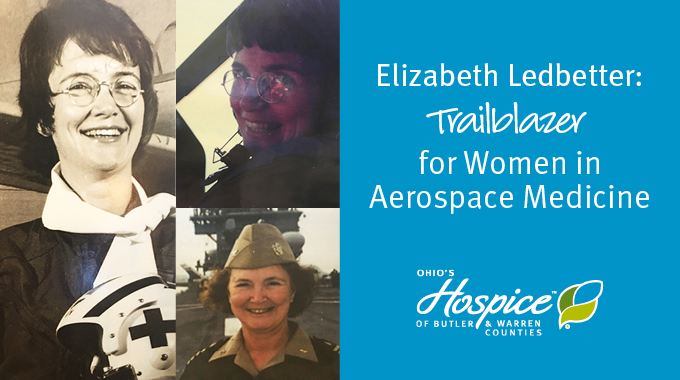 Elizabeth Ledbetter: Trailblazer for Women in Aerospace Medicine
When retired U.S. Navy Captain Elizabeth Ledbetter, M.D., was honored recently with a pinning for her service and sacrifice as part of American Pride® Veteran Care by Ohio's Hospice, the recognition was a tribute to her career as one of the first women flight surgeons. She was a trailblazer for women, specializing in aerospace medicine. 
Ledbetter, who was a patient of Ohio's Hospice of Butler & Warren Counties, grew up in an Army family from Charleston, South Carolina. Her family has a strong military tradition of service dating back before the Revolutionary War. The family patriarch was a colonel in the British Army who was stationed in colonial Charleston in 1689. He decided to remain in Charleston. Male members of each generation of Ledbetter's family have served in the U.S. military since the Revolutionary War. She was the first woman in the family to serve. 
Ledbetter's father was an Army officer who served in World War II. After the war, Ledbetter spent three years of her childhood in Japan, where her father was stationed during the occupation and reconstruction of Japan. Her father was an attorney in the Judge Advocate General's Corps (JAG Corps) and was involved in the Tokyo War Crimes Tribunal.
She traces her desire to join the U.S. Navy and practice medicine back to her childhood. "I had an intense urge to join the Navy, and I have had that since I was a little girl," she said. "When I was six years old, I was playing doctor with my nurse kit. I knew I wanted to be a doctor."
When her family returned to the United States, her father's job with the Army took them to Fort Hood in Texas. Eventually, the family returned to Charleston, where, a few years later, she met her husband and started her family. She had two sons and adopted another son.
She went back to school and graduated from the Medical College of George in 1972. After completing her residency, she practiced medicine in Augusta, Georgia, until 1975 when she joined the U.S. Navy. Ledbetter was commissioned as a Lieutenant and reported to the Naval Aerospace Medicine Institute in Pensacola, Florida, in January 1976 for flight training and aerospace medicine training to become a flight surgeon.
Flight surgeons are physicians who are trained to take care of pilots. While they go through basic flight school, they are not designated pilots. They fly in the same aircraft as the pilots so they can better understand the stresses the pilots face and, ultimately, diagnose and treat the pilots.
Thirty years after she first arrived in Japan as a child, she returned as an adult as a flight surgeon. She was the Naval Air station flight surgeon in Misawa Air Base in Japan, where she operated the P-3 ORION Anti-Submarine Warfare (ASW) aircraft. While there, she also flew with the Japanese in the Lockheed P-2 Neptune ASW aircraft in addition to various aircraft from the aircraft carrier USS Midway.
In Japan, she adopted her daughter. "I was an only child, and I didn't want that for my children," Ledbetter said. "I wanted a big family."
In 1979, Ledbetter returned to the United States and assumed duties as the flight surgeon at Naval Air Station North Island in California for the H-3 Sea King and CH-46 Sea Knight helicopters.
Following that tour, she was assigned to Naval Air Station Cubi Point in the Philippines. She was responsible for a large medical clinic, which served all of the air crews that operated out of that facility on a variety of land-based and ship-borne aircraft. She also served as the station flight surgeon at Naval air Station Miramar with the F-14 Tomcat fighter and the E-2C Hawkeye airborne surveillance aircraft.
In 2001, after 26 years of service, Ledbetter retired from the Navy. During her retirement, she spent several years volunteering with the San Diego County Deputy Sherriff's Department in California. She was a volunteer deputy who provided medical care to inmates. She also was a contract doctor with the state of California in prison medicine.
Eventually, she moved from California to Ohio to be with her daughter and her daughter's family.
When she entered hospice care as a patient of Ohio's Hospice of Butler & Warren Counties, a Veteran pinning ceremony was held to celebrate Ledbetter's life and her contributions.
Hunter Ledbetter, one of her sons, was with his mother during the Veteran pinning ceremony provided through American Pride® Veteran Care by Ohio's Hospice. "I brought Mom's flight jacket that day. The Veteran volunteer placed the pin on her flight jacket," he said. "She was very grateful for the pinning ceremony. She loved what she did in the Navy. She had a remarkable life."
The family plans to give the flight jacket to one of Ledbetter's grandchildren. "Mom wanted to leave the jacket with her oldest granddaughter in the hope that it might inspire her to do non-traditional things," Hunter Ledbetter said. "We're going to respect her wishes, and it will remain in the family."
Editor's Note: Elizabeth Ledbetter died on Nov. 18, 2019, in West Chester, Ohio, at the age of 79. She was buried at Beaufort National Cemetery in Beaufort, South Carolina. We were honored and privileged to be of service to her and her family.