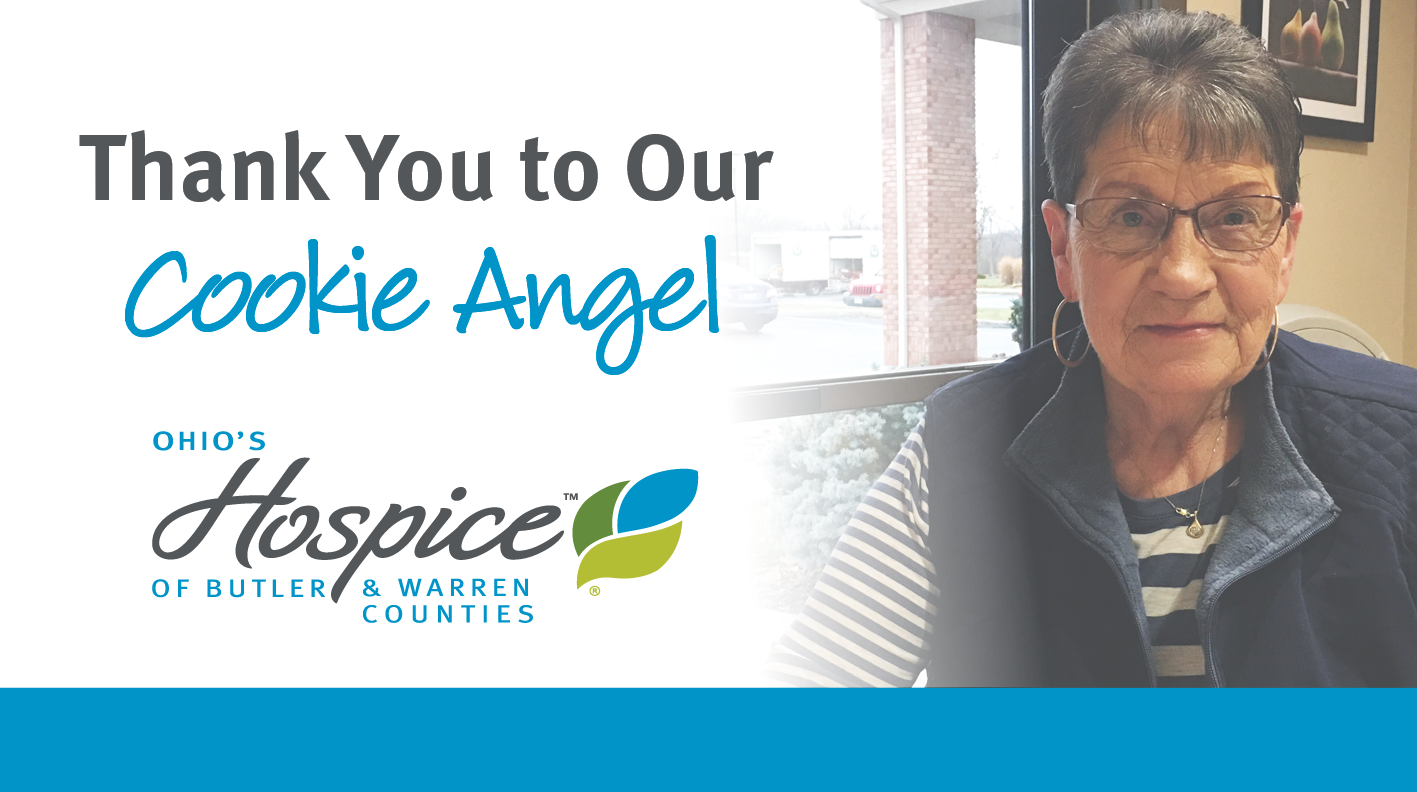 In Gratitude to Our "Cookie Angel"
Perfectly browned chocolate chip. Deliciously sweet sugar cookies. Dark-chocolate brownies, topped with swirls of cloudy white icing or unadorned and delectable. The "Cookie Angel" delivers them all.
Ruth Grottle earned her "Cookie Angel" nickname from the staff at Ohio's Hospice of Butler & Warren Counties when she started making twice monthly gifts of the greatest comfort food of all time to Lorelei's Place Hospice House. Every other week she dedicates a morning to baking and then delivers cookies warm from her oven for the patients, families, staff and volunteers to enjoy. It is her way of giving back.
A few years ago, Ruth lost her husband, Richard. He had experienced health problems for a number of years, but Ruth was totally unprepared when an emergency room visit resulted in a diagnosis of untreatable cancer. One day in August of 2015 Richard was mowing his lawn. Just three weeks later he was being cared for at Lorelei's Place Hospice House.
After the shock of his death, Ruth started attending the Coffee Hour Connection grief support group. "I felt so alone," she remembers. "After joining the support group, I didn't feel that way. We help each other. We laugh and cry together. We still meet and talk about our grief, but we also gather socially where we don't talk about loss."
It was conversation at the Coffee Hour Connection that led Ruth to her baking mission for hospice. "We talked about ways of giving back. I love to bake. I remembered my experience at the Hospice House and thought it would be easier for families going through what I experienced to have something good to snack on so they didn't have to leave."
For Ruth, touching the lives of others is a reward for her time baking in the kitchen. She watched the eyes of a teenage boy who was losing his mother light up when she offered her sweet comforting treats. "I still think of him when I make cookies," she says. She receives hugs for her kindness and gratitude from all of those she encounters in her Hospice House visits. "When I leave," she says, "I think I have left something there for others to enjoy. I want them to know I understand what they are going through. It's good to make a difference for families. And I know this is something Richard would want me to do."
The world could use more "Cookie Angels" with hearts like Ruth's. We are blessed that she shares her sweet comfort with those who enter our Hospice House.